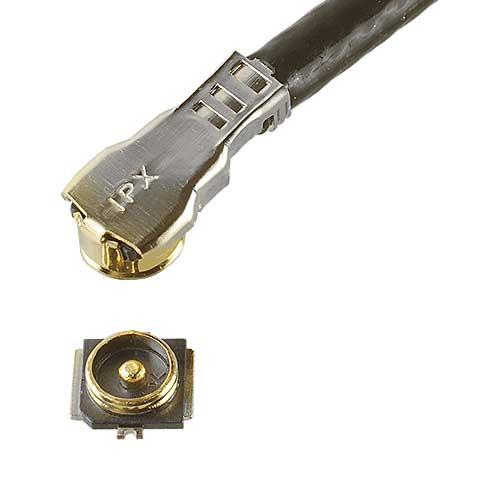 The M.2 industry standard, mated height of 1.4 mm max., excellent electrical performance up to 12 GHz
Small form factor with big performance through 12 GHz

Solderless micro-coax termination technology "i-Fit®" provides consistent performance

MHF® 4L Plug available cable O.D. (AWG) :  1.13 mm (32), 0.95 mm (33)
Micro-Coaxial Cable (AWG):
#32 (O.D. 1.13 mm)
#33 (O.D. 0.95 mm)
Downloads
---
Small form factor with big performance through 12 GHz
Solderless micro-coax termination technology "i-Fit®" provides consistent performance
MHF® 4L Plug available cable O.D. (AWG) :  1.13 mm (32), 0.95 mm (33)
How to mate and unmate the MHF® 4L Micro RF Coaxial Connector from I-PEX Connectors.
Product Type
Height
SMT Size (mm)
Frequency range
V.S.W.R.

VSWR (DC~3GHz) 1.3

VSWR (3GHz~6GHz) 1.45

VSWR (6GHz~9GHz) 1.6

VSWR (9GHz~12GH) 1.9

Applicable Standards (Reference Only)

5G sub-6

IEEE802.11 b

IEEE802.11 a

IEEE802.11 g

Wi-Fi 4

Wi-Fi 5

Wi-Fi 6

Wi-Fi 6E

LTE

LTE-Advanced

LPWA

Bluetooth

GPS

Full shielding (ZenShield®)
Mechanical lock
MHF 4L RECOMMENDED PART NUMBERS
| | |
| --- | --- |
| Part Number Description | Part Number |
| MHF 4L PLUG | 20565-001R-13 |
| MHF 4L RECEPTACLE | 20579-001E |
Other Part Numbers

Please note: This list potentially includes products without available samples and end-of-life items. 
For new inquiries, please reference the recommended part numbers listed above.

OTHER MHF 4L PART NUMBERS

| | |
| --- | --- |
| Part Number Description | Part Number |
| MHF 4 RECEPTACLE | 20449-001E-03 |
| MHF 4 RECEPTACLE | 20449-001E |
| MHF 4 RECEPTACLE (2,500 pcs/reel) | 20449-001E-07 |
| MHF 4L RECEPTACLE (20,000 pcs/reel) | 20579-001E-01 |
SMA Adapter

Product Description (Durability Cycles)

Part Number

Plug

Electrical Performance Check (3K)

90449-001

Voltage Check (10K)

90449-003-01

Receptacle

Electrical Performance Check (500)

90449-002

High Cycle / Normal (10K)

90698-0001

High Cycle / Narrow Pitch / Wire (100)

90577-0100 (100mm)

90577-0350 (350mm)

High Cycle / Narrow Pitch / Probe (10K)

90576-0001

High Cycle / Detachable / Base (200K)

90684-0001

High Cycle / Detachable / Probe (10K)

90683-0001

Hand Tool

Part Number

Mating / Unmating Tool 

90609-0001

Mating / Unmating Tweezer

90615-0013